It's always nice to know...
what size ring you need before you shop online (or even in a local store) and there are many ways to determine the correct ring size.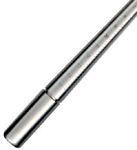 Place a ring that fits you on a professional ring sizer mandrel which can be bought online (or used in a store)
Buy rings in person when you can try them on.
Even the time of year you shop may affect your ring size. The heat of the summer or the dead of winter will dictate whether your fingers will swell or constrict.
Of course there are times when it is impossible to get the perfect ring size and rings that may fit this month, might not next. Ring sizes can change based on many things
Temperature
Medication
Arthritis
Age
Weight gain (or loss)
You can also try to find a close fit with a "ring size" chart or "finger size" strip such as below. You can right click and open image in another window to print up for use.

Most jewelers are more then happy...
to adjust a ring two sizes in either direction. Ring sizing does not weaken a ring however repeated sizing will make the ring thinner. Hard gold soldering takes tremendous heat and the chemicals and procedures to return the polished finish are harsh.
If your ring needs sizing to a larger size, there is little you can do but go to a jeweler and have it done professionally. Of course you can wear the ring on a different finger, but that isn't always desirable (especially if it should be on the engagement finger).
You may also only need a ring sized larger to get over your knuckles, then it may be too large and "roll" or "spin" on your finger.
If your ring needs sizing to a smaller size there are more solutions available to you.
A ring wrap (also known as a ring guard) allows rings that need to be larger, to pass over the knuckles, fit snug on your finger.
Ring wraps are perfect solutions for occassional swelling when constantly sizing a ring can damage it.
When rings have engravings or inscriptions you don't want to lose - a ring wrap can allow you to still enjoy wearing it.
Ring Sizing Problems and Ring Guard Solutions
Children's rings that will soon be grown into. Ring guards are easy to put on and take off. Let your children wear rings for special occassions without worry about it getting lost. Remove the ring guard when the ring begins to fit properly on your childs finger.
Rings that fit over the knuckle but always tend to slide on the finger. Ring guards can be adjusted for a tighter fit after passing the knuckle. Keep your stones upright by slightly pressing up on the "wrap" while the ring is on your finger.
When the engraving may be cut off with sizing. Ring guards are 14K gold filled.
Occasional swelling of the fingers. Ring guards can be adjusted easily when a tighter fit is needed.
Ring Guards

The Solution to Loose Rings
Swollen knuckles making your ring TOO loose on your finger?

Gems and precious stones ending up on the palm side of your hand?

Fingers swell or shrink depending on the weather or time of year?

Afraid to size your ring in case your weight changes?

Afraid your ring will get lost at the Beach

Children wearing special occasion rings...

Our 14 k gold-filled Ring Size Adjuster allows the ring to expand over the knuckle, yet fit snugly & comfortably...

so WHY PAY A JEWELRY STORE TO SIZE A RING - when you can do it yourself for less! Read more..
Magnetic Clasps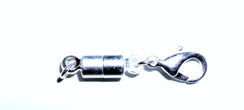 A Trouble-Free Way To Fasten Your Own Necklace Clasp!
Magnetic clasp converters quickly and easily modify most finished necklaces into magnetic clasp necklaces.
Easily used by people who have difficulty opening and closing conventional clasps.
Read more..
Safety Chains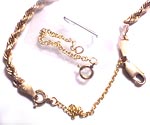 4 styles to choose from! Including our most popular safety chain with spring clasps on both ends - no need to have to worry about attaching the jump ring side.
12k gold filled- yellow
Prevents loss, in case the main clasp should open or break
Fine light chain
Crafted with pride in the USA Read more..
Bra Clips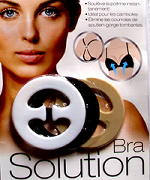 Provide greater lift and support, reduce shoulder indentions and discomfort and eliminate falling bra straps.
Great to hide Bra Straps when wearing tank type or sleeveless tops. To increase dramatic results of cleavage use a bra clip with your favorite under wire bra
Read more..