Ring Sizing Problems and Ring Guard Solutions
Children's rings that will soon be grown into. Ring guards are easy to put on and take off. Let your children wear rings for special occassions without worry about it getting lost. Remove the ring guard when the ring begins to fit properly on your childs finger.
Rings that fit over the knuckle but always tend to slide on the finger. Ring guards can be adjusted for a tighter fit after passing the knuckle. Keep your stones upright by slightly pressing up on the "wrap" while the ring is on your finger.
When the engraving may be cut off with sizing. Ring guards are 14K gold filled.
Occasional swelling of the fingers. Ring guards can be adjusted easily when a tighter fit is needed.
Magnetic Clasps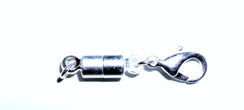 A Trouble-Free Way To Fasten Your Own Necklace Clasp!
Magnetic clasp converters quickly and easily modify most finished necklaces into magnetic clasp necklaces.
Easily used by people who have difficulty opening and closing conventional clasps.
Read more..
Safety Chains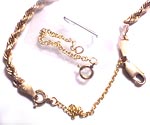 4 styles to choose from! Including our most popular safety chain with spring clasps on both ends - no need to have to worry about attaching the jump ring side.
12k gold filled- yellow
Prevents loss, in case the main clasp should open or break
Fine light chain
Crafted with pride in the USA Read more..
Bra Clips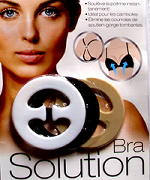 Achieve a Sexy Look in just Seconds! Instant Lift for a more perfect bustline or tranform your cleavage from small to MORE
Provide greater lift and support, reduce shoulder indentions and discomfort and eliminate falling bra straps.
Great to hide Bra Straps when wearing tank type or sleeveless tops.
To increase dramatic results of cleavage use a bra clip with your favorite under wire bra
Read more..
Clasp Helpers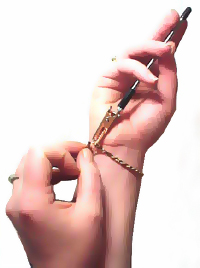 A Trouble-Free Way To Fasten Your Own Bracelet Clasp!
The Bracelet Helper gives you a helpful "extra hand", holding one end of a chain bracelet, making it easy to fasten the clasp with your other hand, all by yourself.
Read more..