Bra Clips
Limited Stock!
$6.99 plus shipping

Add a bra clip to a bikini top for a shapely effect. It's like Enhancing Up a Full Cup Size Instantly! Or use the bra clip with a muscle top to hide the straps.
Bra Clips are the best way to achieve a Sexy Youthful Look in just seconds!
Just clip the bra clip to the back of your bra strap and LIFT!
To increase dramatic results of cleavage use on your favorite under wire bra and place a bra clip close to the nape of your neck. The higher the clip, the tighter the straps, the greater the results.
Achieve a Sexy Look in just Seconds!
Instant Lift for a more perfect bustline or tranform your cleavage from small to MORE
Increases Your Cup Size in Seconds
Improves Your Posture
Lifts and Supports Breasts
Prevents Falling Bra Straps
Keeps Bra Straps from Cutting into Shoulders
No Surgery Needed
Look Good and Feel Sexy!
Instructions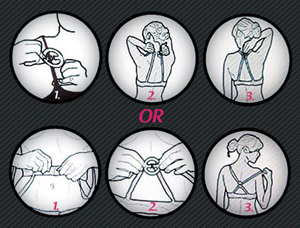 Loosen your bra straps
Reach behind your head and lift one bra strap upward
While holding a bra clip in the other hand, place the bra strap under the flap, then repeat with the other strap
Pull bra strap forward while sliding the bra clip downward one strap at a time
Adjust straps on your shoulders
By adjusting your bra straps to full length, bra clips will provide greater lift and support, reduce shoulder indentions and discomfort and eliminate falling bra straps.
Invisible Bra Straps
Limited Stock!
$6.99 plus shipping

New Item! Invisible Bra Straps - Simply attach to any bra with removable straps for invisible bra straps in an instant!

...it's that easy!

Comes in a pack with 2 pairs.

Adjustable for a more comfortable fit.
Easy to attach
One size fits all
Lightweight and comfortable
2 Strap widths - 5/16'(8mm) and 3/8'(10mm)
Ring Guards

The Solution to Loose Rings
Swollen knuckles making your ring TOO loose on your finger?

Gems and precious stones ending up on the palm side of your hand?

Fingers swell or shrink depending on the weather or time of year?

Afraid to size your ring in case your weight changes?

Afraid your ring will get lost at the Beach

Children wearing special occasion rings...

Our 14 k gold-filled Ring Size Adjuster allows the ring to expand over the knuckle, yet fit snugly & comfortably...

so WHY PAY A JEWELRY STORE TO SIZE A RING - when you can do it yourself for less! Read more..
Safety Chains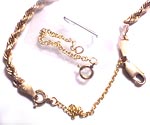 4 styles to choose from! Including our most popular safety chain with spring clasps on both ends.
12k gold filled- yellow
Prevents loss, in case the main clasp should open or break
Crafted with pride in the USA Read more..
Magnetic Clasps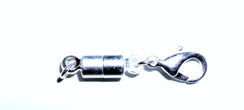 A Trouble-Free Way To Fasten Your Own Necklace Clasp!
Magnetic clasp converters quickly and easily modify most finished necklaces into magnetic clasp necklaces.
Easily used by people who have difficulty opening and closing conventional clasps. Read more..