Bracelet Helper
$9.99 plus shipping

The Bracelet Helper gives you a helpful "extra hand", holding one end of a chain bracelet, making it easy to fasten the clasp with your other hand, all by yourself. Now with our Bracelet Helper, you can easily fasten any bracelet in seconds. Perfect for home or travel.

Made of stainless steel - not plastic like most - so it wont break if packed in a suitcase! .
It fits in your hand comfortably - It's light weight and easy to use.
Great for anyone with long nails or trouble holding a clasp spring open due to arthritis.
Not only is it great for bracelets, it is also a great aid for necklaces and zippers.
Magnetic Clasps
$6.50 plus shipping

Magnetic clasp converters quickly and easily modify most finished necklaces into magnetic clasp necklaces. Easily used by people who have difficulty opening and closing conventional clasps.

No restringing necessary - attaches directly to your present clasp!
heavy-duty magnet strength - safe tight hold
gold or silver plated
25x6mm in length
Ring Guards

The Solution to Loose Rings
Swollen knuckles making your ring TOO loose on your finger?

Gems and precious stones ending up on the palm side of your hand?

Fingers swell or shrink depending on the weather or time of year?

Afraid to size your ring in case your weight changes?

Afraid your ring will get lost at the Beach

Children wearing special occasion rings...

Our 14 k gold-filled Ring Size Adjuster allows the ring to expand over the knuckle, yet fit snugly & comfortably...

so WHY PAY A JEWELRY STORE TO SIZE A RING - when you can do it yourself for less! Read more..
Safety Chains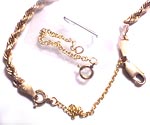 4 styles to choose from!
Including our most popular safety chain with spring clasps on both ends.
12k gold filled- yellow
Prevents loss, in case the main clasp should open or break
Crafted with pride in the USA Read more..
Bra Clips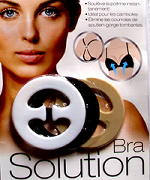 Provide greater lift and support, reduce shoulder indentions and discomfort and eliminate falling bra straps.
Great to hide Bra Straps when wearing tank type or sleeveless tops. To increase dramatic results of cleavage use a bra clip with your favorite under wire bra
Read more..