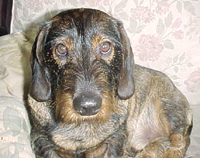 BlackJack aka Beegers B

Born July 14th 2005 BJ is a foster dog who we adopted in December
after fostering him for 5 months
BJ has fit into our pack as if he were meant to be a member of it. He comes from an unstable background and even though his owner gave ownership to us she continues to call from time to time demanding him back (usually in a drunken state) Although the process of fostering and adopting him has not been a pleasant one BJ now lives a stable life with much loved company.

He is one of the smartest dachshunds I have had, however I was told he has caused 25 thousand dollars of damage in the past. He has not even destroyed 1 item while being in our care. All he really needed was love an attention.