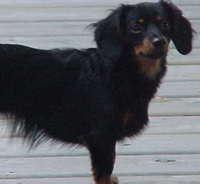 Basil aka BasilooOoooo

Born Sept. 2nd/2007 Toronto Ontario
Basil was born a week to the day our Maxie baby passed away. He's a long haired black and tan doxie dog with a bit of Chihuahua. so he's really a chi-weiner! He was born the runt of his litter and had a hard start in life. He had an under developed liver shunt and had to be operated on at just 9 weeks old. I'll explain further on the info page but today he is a totally normal healthy pup whose love for life is amazing.